Genre: Tech
Topic: Nook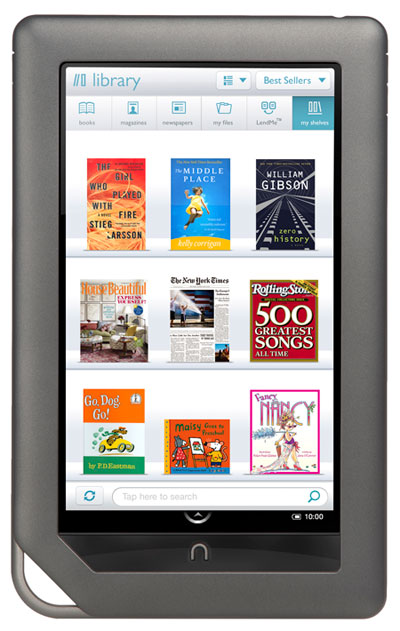 In the battle of the e-reader tablets, iPad, Kindle, and Nook, my heart and soul belongs to my Nook.
Why? Because Barnes and Noble did it right. The publishing industry is in the middle of a revolution and they had to evolve. Did they innovate anything? Nope. But they made a quality product cheaper with a better battery life than the Kindle.
I have the Nook Color, it's like a tablet at the 1/3 of the price of an iPad. I surf the net, buy books at the touch of a button, I can play Angry Birds IN SPACE...
In the past six months I've seen more and more of my 7th and 8th grade students walk around with e-readers. I see more kids reading and you know what, it's awesome.
It's VERY motivational for reluctant readers- you only need to focus on ONE page at a time and you can't see how much you have left to read.
I'm a big believer in the e-reader.
I love my library.
I love my nook.
And one day I'll sit down and figure out HOW to borrow an e-book from the library... I'm sure there's a PDF somewhere I can read.
BTW Today is my HUBBY'S BIRTHDAY! Happy Birthday babe, I hope you enjoy the shirt I got you from woot!
LOVE YA!