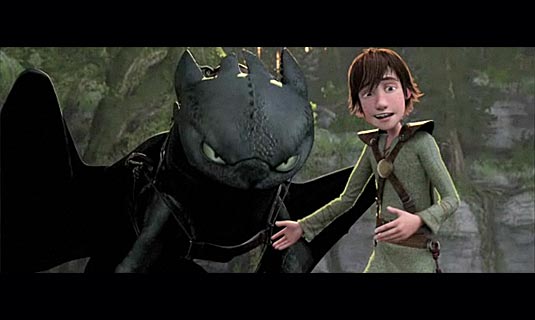 My daughter is obessed with this little unknown movie called How to Train Your Dragon. She was sick on Saturday and watched it twice in one day. This is after watching it every day for the last week.
She loves Toothless.
She thinks the little dragons are funny.
She still doesn't know Hiccup's name, but she does call him the boy.
And the MOST important fact is, 'the big dragon is a little bit scary. He looks like a dinosaur and he says roar."
My daughter the movie expert.
Since I've sat down next to her and watched the movie every time she watched it, I'm sort of an expert at it too.
I also spent an hour on a Friday night researching the different types of dragons and learning all about the book series. (Yep, you can insert your jokes here)
Yep it's a children's book series. 10 books. How I missed a 10 book series is beyond me, but I've already ordered the first book. I'll let you know how it goes.
Anyway the movie does a masterful jump of setting up conflict and creating a hook in the first 5 minutes.
The first minute you are introduced to the setting of story and the main character, Hiccup a very scrawny but smart boy.
By the second minute there is a dragon attack on the village, we all meet all the secondary characters too.
In the third minute we've established that Hiccup doesn't fit in and all he wants is to kill a dragon and be apart of the community. He is also not at all liked by anyone, including the Chief of the village.
Minute four he breaks down all the different dragons in that will appear in the movie and tell all about the Night Fury, the most deadly of all the dragons. He has created a weapon that will shoot a dragon for him,
By the fifth minute he shoots down the Night Fury and is attacked by another dragon. While running away he does more damage than good. He is saved by the village chief, who turns out to be the best dragon killer and Hiccup's dad.
DAMN.
Every word, every image, is there for a reason. No fluff. No filler. It give a TON of information without being an info dump.
It's perfect.
Look at the opening of your book, the first chapter.
Is there a hook?
Does it introduce your prime conflict?
Does it introduce your main character?
Does it establish your setting without being over loaded with imagery?
Your home work this weekend, watch How To Train Your Dragon. Pay attention to the story telling.
Christmas

Gifts

for

People

You

Are

Indifferent

To

.
I will give away three mystery gifts.
Contest ends on TOMORROW at NOON.